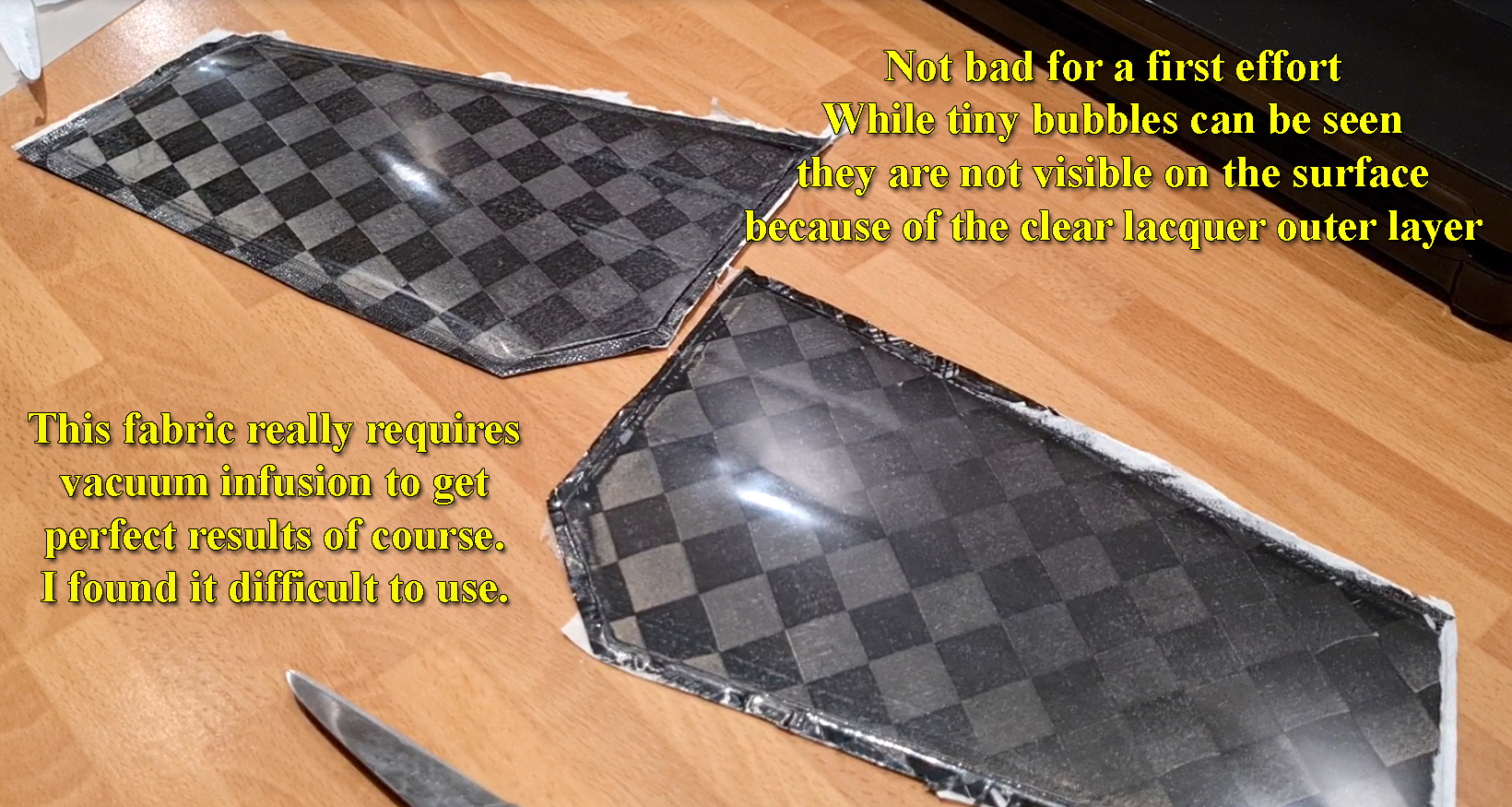 I said experimental, my experiment was a partial success; the vacuum machine worked a treat. It has second settings for less vacuum and wet items but it also comes with a clear plastic pipe and a set of adaptors for vacuum containers which plug in the side of the machine. Next time I shall cover both sides at the same time as I used to do.
My guess is that this could be used to evacuate a regular vacuum bag using the pipe plugged in the side; I haven't tried it though. I was surprised by the power of the 'suck' as well and it easily 'contained' its vacuum over at least a couple of days to my knowledge.
So it was a qualified success but you can see for yourself because my video is here on YouTube, slightly edited, albeit running at 8 times speed to shorten its boringness.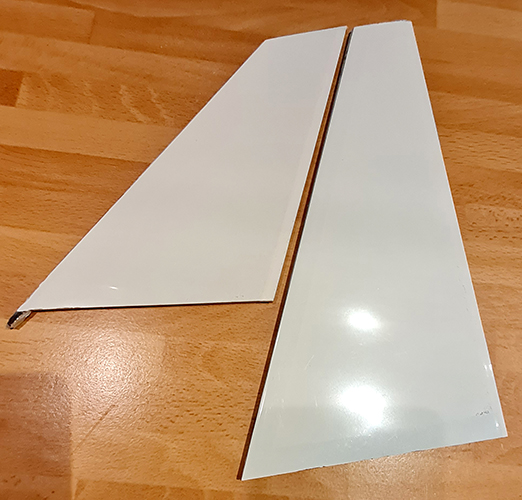 After my 'success' with the carbon spread-tow I decided to try something a little different. For the fin and rudder I used Rohacell, and balsa for the rudder post, covered with one layer 105gsm twill glass fibre. This time I used white aerosol primer instead of clear lacquer to paint on the Mylars. I did both top and bottom surfaces together this time. I could have been more sparing with the epoxy as there was some 'flash' that squeezed out.
To be honest I prefer the white primer... after hinging thy are ready for a final top coat of colour. I was very pleased with these. Before covering 17g the pair, after covering 42g... the glass and resin added 25g.
P.S. I tried a dry fit of the 220mm chord foam core I intend to use for the wing of this model and it fits inside the 260mm wide plastic bagging material supplied. It's a bit tight at the root but I reckon a 750mm wing panel could be vacuumed using this method! You have no control over the vacuum suction however, so white beaded foam may not be a reliable option but an extruded foam may well work well enough as it will not compress as much as cheap 'builders' foam.
Finished model - not my best - a SB96 section wing from grey foam with vacuumed 100gsm carbon and 25gsm glass veil cloth. This is a variation of the AEOLUS but with different section and an AMT removable tailplane.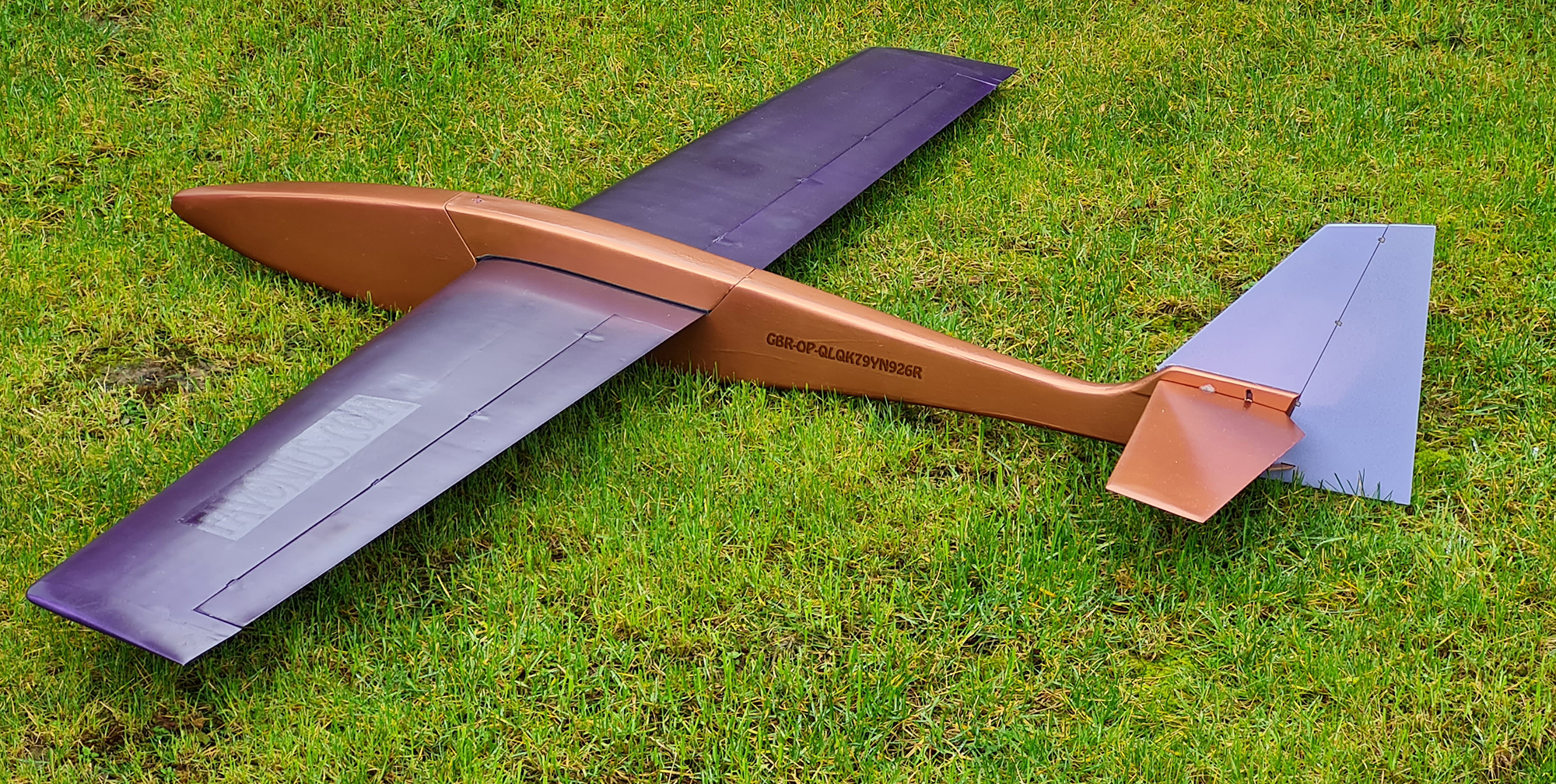 Caveat: I don't like to wear gloves when epoxying and I am aware of allergic reactions to organic chemicals. I am also aware of the effects of Bisphenol-A in resins with respect to fertility in fish and mammals. As they say, Nitrile (not vinyl or latex) disposable gloves should be worn when working with such materials.