This is a subject that crops up on a regular basis. The record that has passed into R/C mythology; that of 242 mph (390 kph), was set in 1978, ignoring Dynamic soaring records of course. That's over 40 years ago! (page edited in 2019) This will be before many of you were even born...
Of course, nowadays, the record is held through Dynamic Soaring, as I write it currently stands at somewhere around 545mph (877kph) but that doesn't detract from the previous slope-side record set back in 1991. Although a magnificent achievement at that time, don't try to relate it to your own slope flying because the record was set over a 50 metre course and 6600 feet up an Austrian mountain at the end of an enormous dive! And, of course, the air is thinner (19% less) at that high above sea level as it was where the DS record was set.
If you want to read more, and see a 3-view of the model called the PFEIL (German for Arrow) there's a contemporary article on to download below. I scanned the 3 pages below (~800Kb) of the original since the original magazine is unavailable 30 odd years on. Click on the thumbnails.
As far as I know, in 2010, the course length is 200 metres and not the 50 metres mentioned above. The slope-side speed record (i.e. non D/S) was/is held by Klaus Kowalski of Germany at 239.70 kph (149mph) over a 200 metre course. That record was set on 20th July 1991. The record has to be the calculated from the average time of a pass in each direction over the course, in the same flight and within a 30 minute slot. Claims higher than 150 mph must be electronically timed (i.e. no stopwatches).
After the success of the Pfeil some other well known models came along, notably the Dassel which was flown in F3B, and the Sitar Special, a kit variant from Solent sailplanes with a glass fibre fuselage and plank-like foam wings differing from the Pfeil's high sweepback but with a similar high mounted elevator. More info from the web: Flown at Patscherkofel Mountain (Ski Resort), Innsbrück. There may be a Sitar/Pfeil model in this Swiss museum, Verkehrshaus (Transport Museum) in Lucerne.
The models, Sitar and Dassel, were designed and built by the AME Group in Austria under the direction of Fridolin Fritz and Werner Sitar. My brother filmed the Austrian team way back in 1977 at a UK F3B event using 150m towlines (no winches back then) with an early ½" reel-to8-reel video camera.
Click image to watch the YouTube video.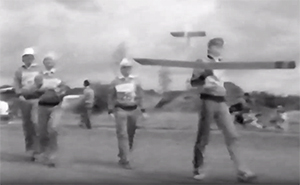 Shot at the 1977 International F3B contest held in Oxford in 1977 on 1/2" reel to reel video tape. At the beginning is Sean Bannister from the UK flying, and I still remember he did a 14.6 sec for a 2 lap speed task. Next is some footage of one of the Sitar brothers from Austria flying. They used to hand tow from a 150m towline. The amazing thing then, was they just did 10.5 to 10.6 sec every time and convincingly obliterated the opposition.