Servos
I fitted my Sagitta wings with Multiplex servos (not for any particular reason) using four in the wings: 2 x FLBB for the flaps (13mm) and 2 of the 11mm thick ones for the ailerons. I had two odd standard servos for the rudder and elevator.
Covering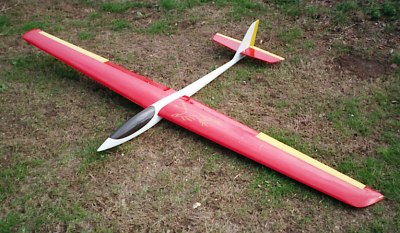 I used Profilm for the first time but I didn't really like it compared to old solarfilm. I made an adequate job of it, let's say, in red and yellow.
What didn't I like?
I hated the elevator connection. Each half of the elevator has its own horn and the two wires are soldered together and connected to the servo. A simple pushrod would have been much better, or even a bellcrank, IMHO. Still it works fine. There is one advantage though - it makes transport much easier if the tailplane is removable.
Flying
Quite a nice plane, for a kit, I must say. It isn't super fast but flies near enough all the manoeuvres one might want. I opted for the four control surface option which gives all the functions on a computer radio...thermal flap, snap flap, crow braking and so on.