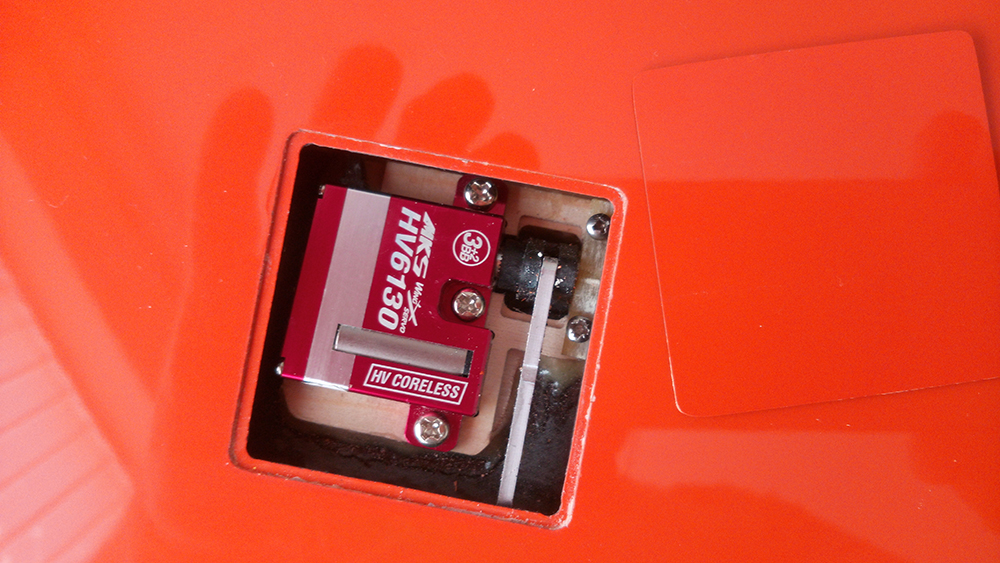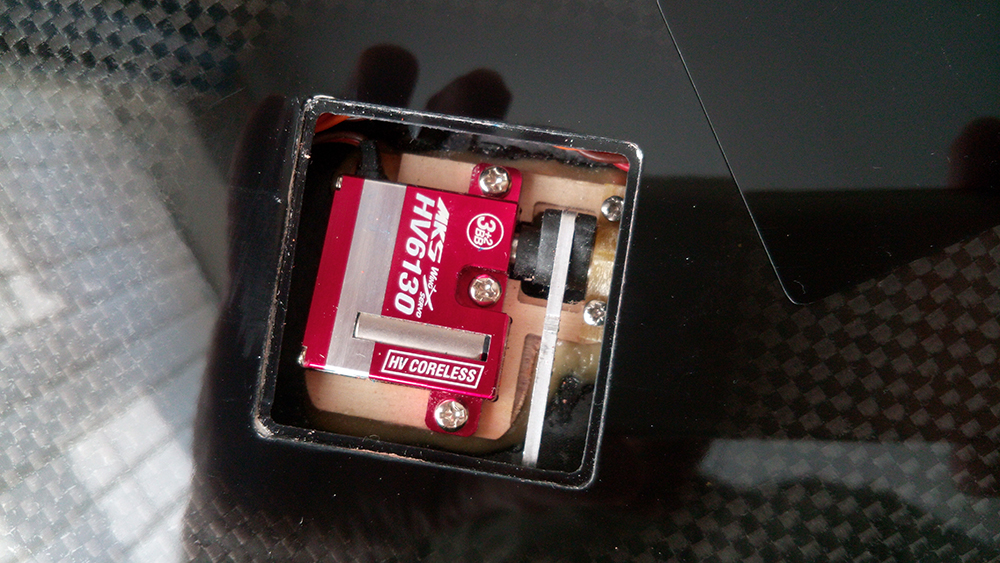 I now have a new aerobatic model. This is the latest version of my tired old Kinetic, which I love, featured elsewhere on these WebPages. My Raptor came with six servos and pushrods fully installed by Baudismodel.com. They are quality MKS high torque, high voltage servos and were fitted perfectly. All I had to do was fit a receiver and battery and balance.
I know I would have personally struggled putting the complicated bellcrank assembly and LDS wing (left) and flap (right) servos in the wings. I took a few pictures of my new orange and blue model. The model is made of carbon fibre except the area around the canopy which is bereft of this RF hating stuff so hopefully my FrSky 2.4Ghz RX8R Pro receiver should function well, otherwise it will be 868MHz, we'll see.
The paint finish is as good as it gets, in this case orange with a two-shade blue tip decoration (this may change); the underside of the wings is natural carbon with an orange stripe. The fuselage seam line is fine and the fuselage halves look as though they were joined wet with tape. The ailerons and rudder are ready hinged I assume with Kevlar and or Peel-Ply, I don't really know. Overall a very well made model.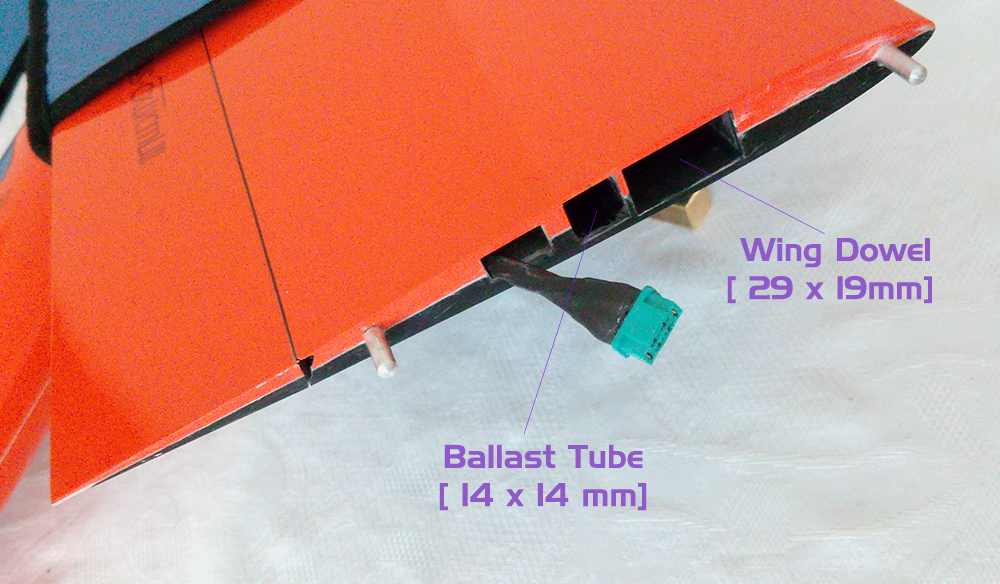 The wing servos are screwed into ply plates fixed in the wings so they should come out if/when servo gears are damaged. The LDS looks to be 'home-made' by Baudis (i.e. not proprietary) with aluminium pushrods. Like I said I didn't install them. The LDS horn exits (right) are close tolerance, very nice, leaving only the tiniest of gaps. Nothing shows of the aileron assemblies under the wing. I reckon the servos were installed with 'offsets' of 1300ms (ailerons) and 1800ms (flaps) rather than the normal centres of 1500ms that FrSky uses. This is to get the up/down movements required for the wing surfaces. (Remember raking servo and aileron horns forward and back etc.) The wing dowel is a 'floating' square carbon tube with a foam infill and shear web weighing in at some 80g. (Floating = very loose fit)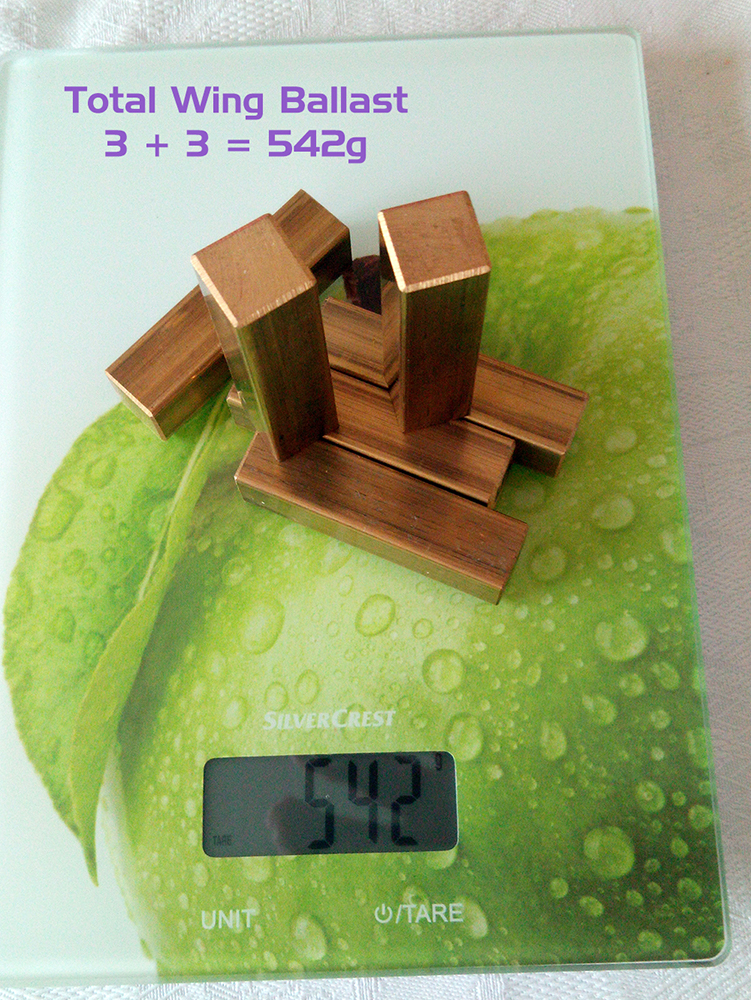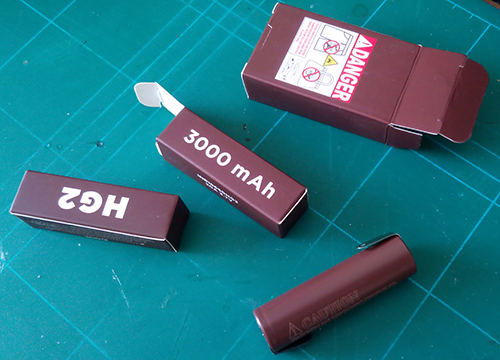 The wings have ballast tubes which take 3 + 3 brass pieces 14mm square, you could always replace these with heavier Lead or even Tungsten but for an aerobatic soarer 500g is ample just giving the extra bit of climb out in stall turns and extra momentum in strong slope or thermal lift. In my case Baudis put in the wiring loom i.e. a green Multiplex plug with blue Graupner /Futaba/JR style servo receiver plugs. I got the ready made super wing bags as well.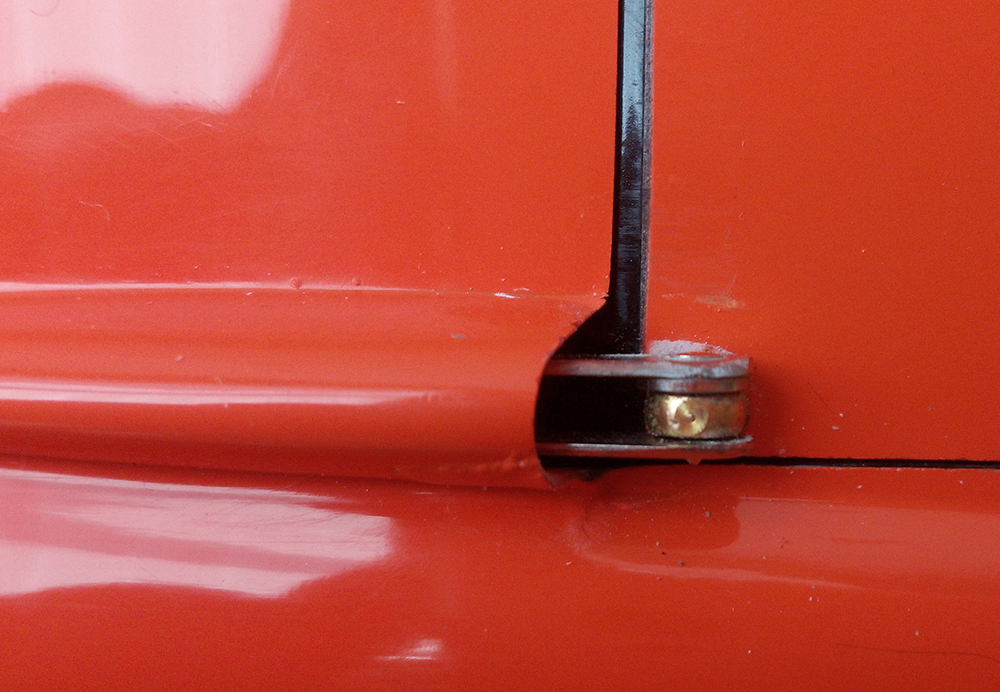 I'm not a fan of rudders hinged on one side with a wiper on the other as the servo pushes the rudder sideways against the Kevlar hinge which will eventually weaken. I much prefer pull-pull wires for a rudder but this is how it came.
My fuselage came with the servos and carbon pushrods in place and no carbon around the canopy; [sic] 2.4 safe. All I had to do was to put in a receiver and battery. The fuselage, btw, contains internal ply bulkheads along its length. All six servos are HV (high voltage) variants so they will run on a 2S Li-Po or 2S Li-Ion battery at a nominal 7.4v. I chose to use 2 x18650 Li-Ion cells which I made into a pack with a balance plug; but buying any 18650 cells is a nightmare. These came in their own boxes!