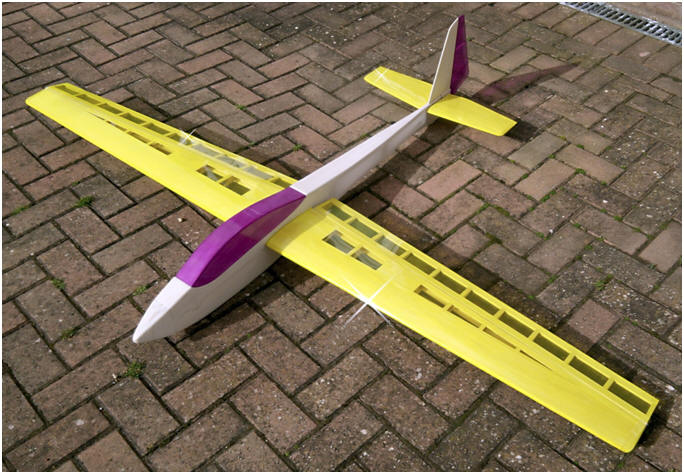 No sorry, not this Ferengi with a lust for profit and Gold-Pressed Latinum, nor any one of the six types of sub-atomic particles known as Quark flavours; up, down, strange, charmed, bottom and top. In fact, this Quark flavour, the 2M, is a lightweight aerobatic soarer for VTPR* or close-in slope manoeuvres from Fred Marie in Ireland.
This QUARK balsa model comes as a part-kit, a design by Fred Marie whom I believe is a Frenchman; the model certainly looks like a French VTPR type with a bulbous front end. The kit is all wood except for a GRP bellcrank. All the parts for the fuselage, wings, rudder and elevator are laser cut from balsa and lite-ply. However, you will need some sheet balsa and wing tubes and dowels plus hinges, clevises etc. to complete the model.
The two plans and instructions supplied refer to different iterations of the model, I believe, which can be confusing as one recommends a 1m carbon tubular spar in each wing while the plans only show a shorter carbon wing dowel tube with spruce or balsa spars. I balked at the cost (£30+ inc.pp) of a 2 metres of carbon tube and carbon rod as wing dowels so I chose 10mm aluminium tube and a short piece of 8mm diameter carbon rod for the main dowel with a smaller pieces of 6mm carbon rod and ally tube for the locating dowel which I already had.

WINGS
The wing construction is straightforward, and because the wing ribs are laser cut, the parts lock together tightly to make a light but seemingly strong wing. The wing can be part or wholly sheeted. The ailerons and wings are built-up separately and, like the fuselage and tail pieces, have lightening holes to save every gram. The finished 2M model can come out as light as 1.2kg but I had no way of knowing its final weight until it was balanced. I intended to use a mix of Solartex for the fuselage and transparent film for the surface covering, I already had servos for the two ailerons, rudder and elevator (HS82MG for the wings and HK* GoTeck) from other models. I considered using a pair of Samsung 18650 or 4 Eneloop Pro cells for the power supply, it depends on the balance and CG; I chose a new cell (to me) as it happens.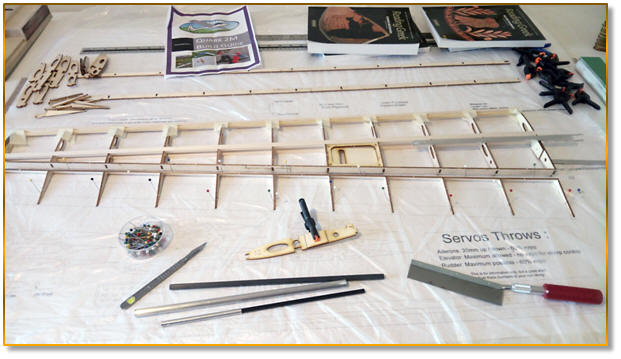 Both the wing and tailplane are built upside down and the ribs have lugs to support the inverted surfaces as they are built, these are cut off later when the topside of the wing is sheeted. Aiming to keep this model very light I chose a balsa spar with vertical double shear webs each side of the spar for the wings, the wing dowel is 8mm carbon tube in a 10mm aluminium tube. One wing panel done (and now up the right way) it just needs a little sanding then the HS82 servo can be installed and the panel covered with film. There are no flaps on this model only large 3" wide strip ailerons. Designed with a built-in chamfer the leading edge of the aileron really means that the wings have to be tape hinged on the top surface. I chose to use Blenderm tape which, primarily intended for skin wounds, is very sticky and quite flexible. This tape is available from many pharmacies I should think, although I bought mine from HK. The two panels came out at just 172g each before final sanding, servos and covering which bodes well for a lightweight model.
FUSELAGE
In between cutting, gluing, pinning and waiting the second wing panel, now going faster after the first one, I removed the parts for the fuselage and laid them on the plan. The fin and rudder fit nicely and, as you can see, the fuselage is a bit of a jigsaw puzzle of ply and balsa presumably because the parts need to fit in a certain size box for the Irish post. All straightforward and with the massive plan on the floor, it looks easy to assemble and it is light. As I build, I am thinking this 2M model could come out at under 1kg. I did make one modification to the original model and that is in the nose. The nose block is made by sandwiching together the eleven pieces of balsa and ply supplied and then sanded.
Reasoning that the model would probably need nose weight I cut some of these pieces to create a void in the nose block before gluing that would take a 100g+ chunk of lead as far forward as possible, if it were necessary.
FIN & RUDDER

The fin and rudder are simplicity itself and meant to be light; this is the framework but the fin needs sheeting with 1/32" balsa (like the tailplane). The fin has a carbon tube on the hinge line fixed into fuselage to make it a bit stiffer and more rugged. I used 0.8mm obechi veneer as I had insufficient 1/32" balsa. It will have pull-pull cables. The tailplane halves proved trickier than I first thought since the pre-cut ribs for it are very delicate... I broke a couple. I could not find the correct size carbon rod and a tube to fit so I used different sizes to those on the plan. I sheeted with 1/32" balsa on the top and 1/32" obechi on the bottom.

Before covering, they came out at just 22g for each half and light enough I thought. I used two flanged ball races on the fuselage for the rotating pivot; a change from the plan. I used incredibly shiny clear film (backing film very hard to remove) from HK… I bought a 5 metre roll for less than £7!!! It seems to work well enough, better than the old Solarfilm in some ways. I made a regular balsa pushrod, btw.

ELEVATOR

I did suffer a little 'builder fatigue' as I call it, as I thought about a Mad Stab*, tried it and failed, so progress was slow. I added a couple of cheap aluminium cased servos from HK for the elevator and rudder and I used a pair of old HiTec 82s from another model for the wings. I used four Duracell Ultra NiMH rechargeable cells (new to me) as the power supply. Rated at 2500mAh they are a change from the more expensive Eneloop Pro I normal use (these Duracells cost about £8 for 4AA).

When I finally finished the Quark 2M I had gone overweight, I missed my 1kg target. The 172g nose weight that I added didn't help. The A.U.W. was 1.166kg. This equates to a wing loading of 30.7 g/dm2, almost exactly 10oz/sq.ft.

Not everything went according to plan, my building skills have deteriorated over the years! This model finishes my 2018 winter building. I started by re-furbishing my 2.7m Jedi aerobatic from France… and pressing a new pair of wings for it, then it was this Quark. All that remains is to fly both of them. One heavy and one light, I have a feeling my favourite models will still be my Kinetic and my Raptor though.
Quark 'Flavours'

Span: 2m

Length: 1,40 m

Surface AREA: 38 dm²

Wing Profile: SB96V/SB96VS

Weight 1,2 - 1,7 kg

VTPR = Voltige Très Près du Relief

Mad Stab: +/- 90º movement

HK: HobbyKing.com

Fred Marie: www.islandmodels.ie